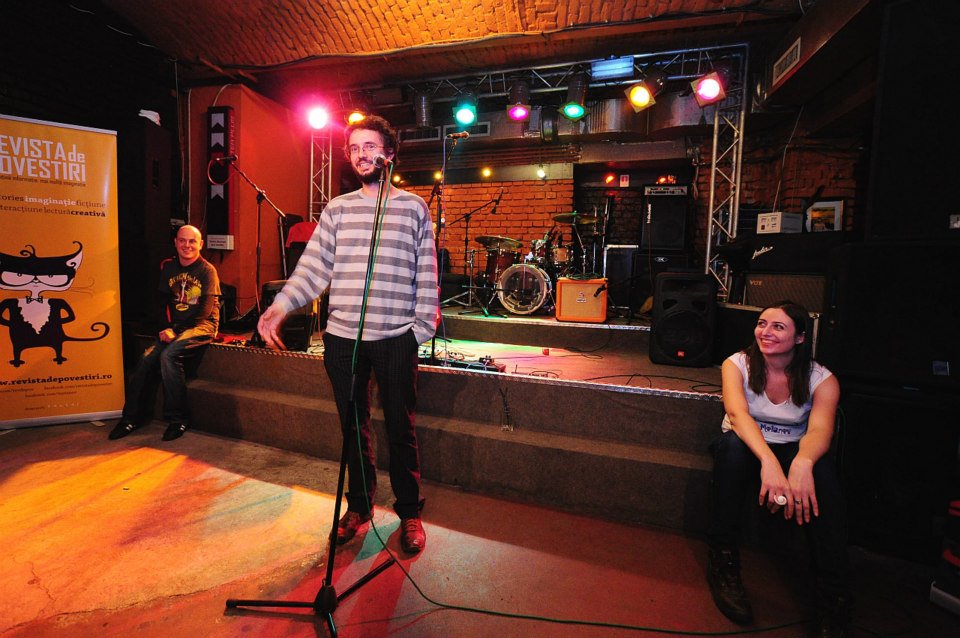 President – Simina Diaconu
Simina is 29, she has a BA in Political Science from the University of Bucharest and an MA in Communication Campaigns in PR and Advertising from the same university. She was in the first generation of alumnae at Școala ADC*RO – an advertising concept school. It seems like she wasn't fit for advertising though, she really preferred branding.
Before Brain Fitness she worked as a communications coordinator in an HR start-up, Enovate, where she got inspired to try entrepreneurship by her enthusiastic boss. Before that, she translated a coaching book from English (The Inner Game of Work, by Tim Gallwey) and a novel from French (Passage du désir, by Dominique Sylvain). She preferres French. She also wrote content for an on-line gift shop, getting used to online etiquette. Before that, she worked in a call center, where she learnt how rewarding it is to be of help. Before that, she was a volunteer for her faculty's students' association and taught Romanian and math to 6th graders with poor grades in a school in Bucharest. She survived.
She was active on a radio station forum in 2005, which proved to be very helpful when she began work at Brain Fitness, because a great number of friends she made there helped her in various ways with Revista de Povestiri. Even the 2 other co-founders friends come from those adventurous times.
She started a blog in late 2005, 'Pataphysics and smoke, through which she got to know very talented bloggers which she later invited to join the authors of the magazine.
She learnt a lot since founding Brain Fitness, including things about herself, and she is constantly searching for learning that can help in her activity. Recent courses: Project management (with CEED), Entrepreneurship (with CEED), Business analysis (with Iversity), Management of the Arts (with Goethe MOOC). She went for 2 years at the entrepreneurship days at Zilele Biz to steal insights. She attended the conference on cultural and creative industries and wrote down what she heard for future reference.
She feels good around her boyfriend and pet (different beings), while she reads a book or after she exercises. She believes in friendship and humor and dislikes hypocrisy; she makes a far better impression in writing than in real life (though she is pretty). She is an INTJ.
What she does for Brain Fitness. She had the idea to make a short stories magazine, was its editor, thought out the projects and their positioning and she coordinates them, designs strategy and initiatives, writes most websites content, handles social media communications, invented Motanov and briefed the illustrator for all drawings, organized launches for the magazine issues with her team, handles submissions for workshops participation and recruits trainers, writes press releases and contacts media, handles partnerships, magazine activations, wrote funding proposals and projects submitted for public or CSR funding (poorly, since it didn't work).
***
Vice-President – Traian Stanciu
Traian Stanciu is 35 years old and was a creative director in his advertising boutique for 10 years. He also has a background in working with NGOs and as a trainer in fighting discrimination. He is a Virgo – therefore he is a critic, he likes playing mmorpgs and poker and he hopes he has a good sense of humor.
He designed the brand identity for Brain Fitness and its projects, he was the layout and DTP guru of every issue of Revista de Povestiri, he designs most visuals used in communication, he often hosted the launches of our fiction magazine issues, he contributed ideas for making our events more engaging and playful and was constantly harassed by Simina to give feedback.
He wrote letters to himself in Revista de Povestiri, disguised as Elu Cubrela.
Member – Constantin Nimigean
Constantin Nimigean is 34 years old, passionate about photography and magazines but not a photographer. Back in 2007, he started a blog called Oitzarisme that has become, over the years, one of the most influential on-line magazines about photography in Romania. In January 2011, he launched an on-line photo-magazine called LOVE ISSUE, because he wanted to have a compact product of his blog and a magazine of his own. After six on-line issues, he decided to get the magazine printed. After a successful fundraising campaign, LOVE ISSUE became real. In April 2013, he also managed to publish LOVE ISSUE #8 in print. After this, he moved to Berlin where he enjoys being a freelancer. One day, he will be back!
Cat – Motanov Motanul Mov
Motanov studied imagination, confusion and communicating with humans at the Academy for Exceptionally Gifted Felines. He became an imagination trainer on his Facebook account even before Revista de Povestiri had been launched. He lived in the magazine, wrote short stories for it, selected stories from readers. He writes our newsletter. Since the closing of the magazine, he was left homeless and entered a period of depression, resulting in a pause in his activity on Facebook, but now that the magazine is coming back on-line, he promised to get it together.